Five areas will receive special assistance in NSW as hundreds of thousands of Queensland homes remain without power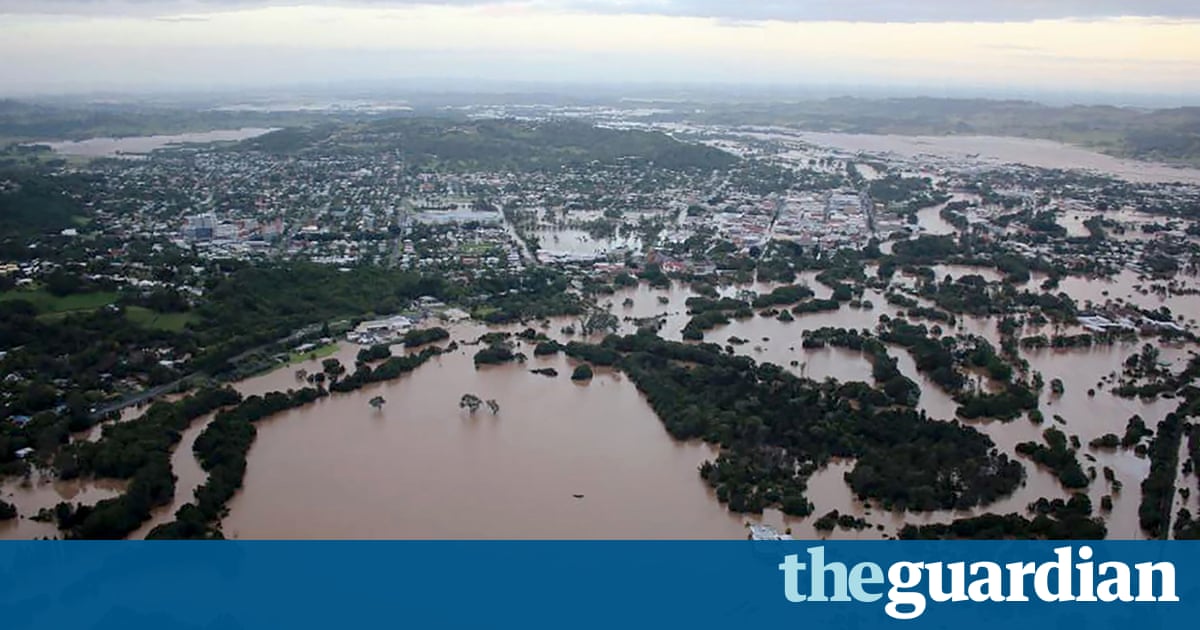 Five natural disaster zones have been declared in New South Wales, as police found a womans body on a flood-affected property in the north of the state.
The woman disappeared on Thursday night in floodwaters at a rural property at Upper Burringbar, 20km south of Murwillumbah, and her body was found by a family member at about 8am on Friday, police said in a statement.
In Queensland more than 100,000 homes are without power as residents and emergency services battle severe flooding in the wake of ex-cyclone Debbie.

On Friday, NSW premier Gladys Berejiklian said the Tweed, Lismore, Byron, Richmond Valley, and Kyogle and Ballina local government areas were natural disaster areas, meaning residents can access disaster assistance funding.
I just want to thank the people who are trying very hard in very trying circumstances. … but also to ensure that everybody heeds our messages: do not do anything that is even remotely risky, she said.
Emergency services minister Troy Grant pledged support will be given to those affected. Those communities can be assured that vital infrastructure has been impacted in that area and arrangements have been made, he said.
Northern NSW and south-eastern Queensland continued to experience severe flooding on Friday, with emergency services warning that with more than 130 calls for help on Thursday night, they feared a possible loss of life.

In south Queensland, the Logan and Albert rivers flooded, affecting the areas around Logan, south of Brisbane, and the Scenic Rim region, inland from the Gold Coast.
In NSW, the Wilsons and Tweed rivers flooded, with the town of Lismore completely inundated and Murwillumbah and Chinderah severely affected.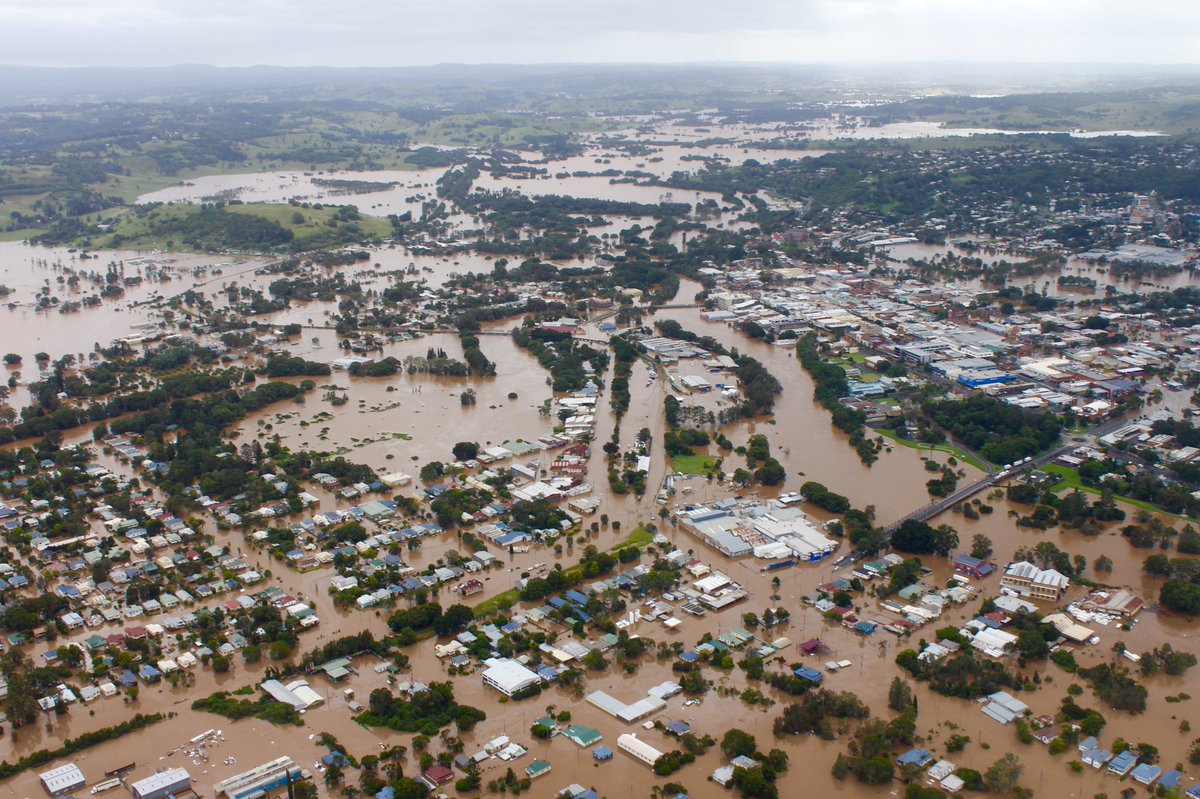 Since Wednesday night, the NSW State Emergency Service has fielded 1,400 calls, made 300 flood rescues and given more than 20,000 people immediate evacuation orders.
On Friday morning, Lismores 11-metre levee overflowed for the first time in 12 years. In Lismore, mayor Isaac Smith said he hadnt seen as much rain for 30 to 40 years. The previous night, 220 people sheltered at an evacuation centre in the towns Southern Cross University campus. Earlier that afternoon, a three-year-old boy was rescued after being swept away.
Smith told AAP that at a speed of three metres a second, the floodwaters would pick up a truck and throw it around. Hours later, the area was declared a natural disaster zone by Berejiklian.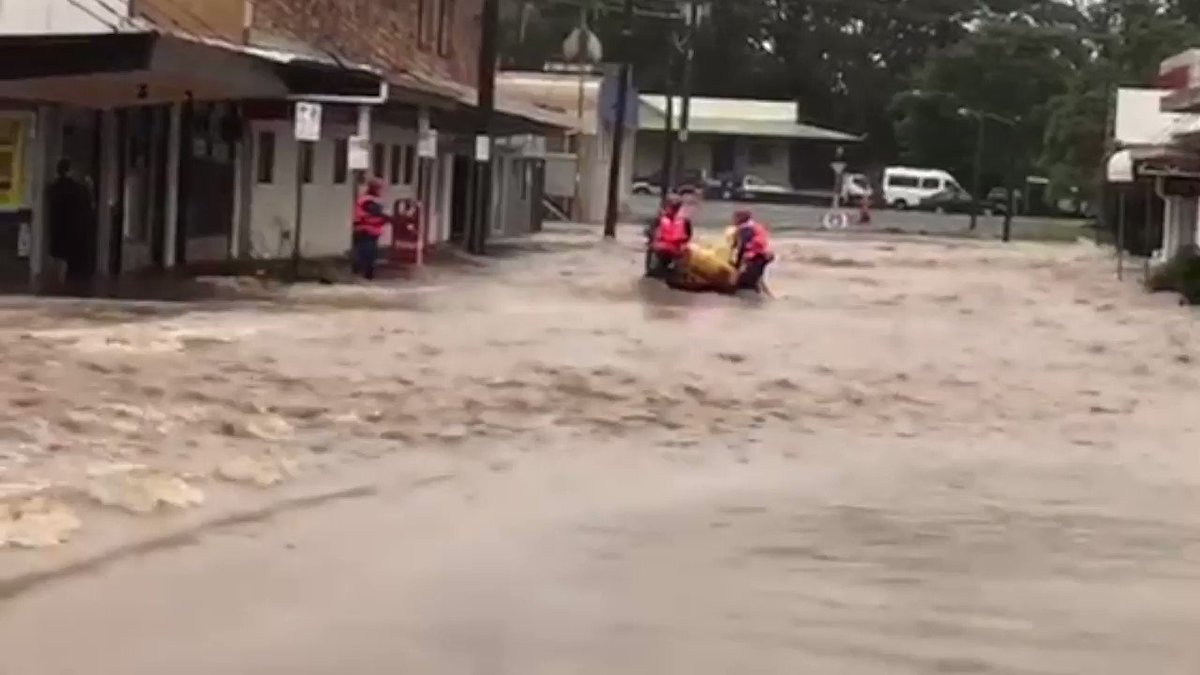 The State Emergency Services deputy commissioner, Mark Morrow, told reporters that residents remained trapped in Murwillumbah, while Tweed Shire Council general manager Troy Green said the damage bill would reach into the millions.
Morrow said: [Rescuing residents] is a very technical job to do, a very complex and dangerous job. We might get a worst-case scenario there, and find people have deceased overnight as a result of being caught in floodwater.
In Queensland, Logan mayor Luke Smith said they expected more than 200 homes to be swamped in the next 24 hours. Further north, in the Bowen, Whitsunday and Mackay regions, the army provided 20,000 litres of drinking water to cyclone-hit Airlie Beach, which has been without power since Tuesday morning. Emergency generators were also brought in to run essential services such as hospitals.
Queenslands premier, Annastacia Palaszczuk, said 2,000 damage assessments had been completed in the northern strike zone of ex-cyclone Debbie, with 270 properties already damaged so severely by the category-four storm that they were uninhabitable.

More than 90,000 homes were said to be without power in the states south-east, with 50,000 more in the north.
Queenslands sugar industry has estimated $150m of damage has been dealt to sugar cane growers in the Proserpine and Mackay regions.
Bruce Gunn, the Bureau of Meteorologys regional director, said Rockhampton on Queenslands mid-coast was at risk of flooding next week, due to rainfall in the catchment area of the Fitzroy river.
Read more: https://www.theguardian.com/world/2017/mar/31/natural-disaster-zones-declared-in-new-south-wales-in-wake-of-cyclone-debbie