One of the most popular grocery stores in the US will attempt to prove that its unsanctioned Canadian cousin has affected its commerce and trademark rights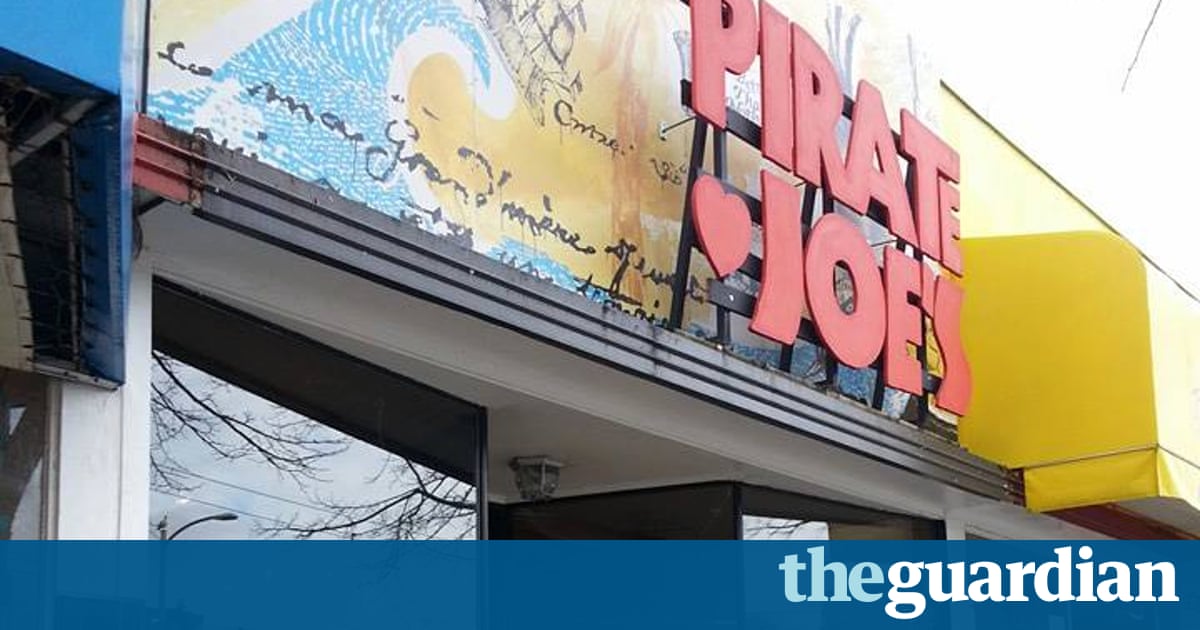 To your average person, a 6oz bag of dried pineapple is a non-threatening treat. To the cherished grocery store chain Trader Joes, that and other products including black bean quinoa chips and dark chocolate-covered edamame are worth a five-year legal battle.
The company claims a rebel Canadian grocery operation called Pirate Joes is violating its trademark. Pirate Joes buys Trader Joes products, smuggles them across the border to Vancouver and sells them.
The case is set to go to trial in November. For Pirate Joes to have a fighting chance against one of the most popular grocery stores in the US, its founder, Mike Hallatt, needs to raise some serious money. So he has turned to the internet, launching a crowdfunding campaign on the platform Crowd Justice, seeking $250,000.
That number pales when compared to the more than $1m Hallatt says he has spent at Trader Joes locations in the US, in order to supply Vancouver residents with goods that are not sold in their country.
Its the biggest bet in my life, said Hallatt, who has lived and breathed Pirate Joes for more than five years. Everybody in my world is telling me to quit, and yet customers are coming in and saying, Oh my god, Ill support you.
Trader Joes has a cult-like following in the US, where it is known for its friendly corporate culture, affordable prices and speciality food items. Its legal battle with Pirate Joes, however, has showcased its corporate might.
The company, which does not comment on pending litigation, sent Hallatt a cease-and-desist order almost immediately after he started Pirate Joes, in 2012. It then pursued a trademark case. That was dismissed in October 2013, because the court determined Trader Joes, a US company, couldnt sue in Canada, where it does not have shops or offices.
It was a major win for Hallatt and his customers, many of whom do not have the time, money or documentation to cross the border to shop at the nearest Trader Joes, which is nearly 90km from Vancouver.
Celebrations grinded to a halt last year, though, when the ninth circuit court of appeals overturned the lower courts motion to dismiss, sending the case to trial.
The ninth circuit decision has had a significant impact on US trademark law. Just opening the door to trademark owners to sue in US courts for acts that occurred abroad and to be able to survive a motion to dismiss is huge, said Christine Farley, a professor at American University Washington College of Law.
Farley said the onus was now on Trader Joes, to prove that Hallatts business has affected its commerce and trademark rights in the US.
The ninth circuit has essentially rolled out the red carpet for Trader Joes to make the claim and now the ball is in their court, she said, they have to figure out how to do it with this quirky set of facts.
One such quirky fact is that Trader Joes, which is privately owned by the German grocery chain Aldi, has a Canadian and a US trademark but decided to pursue the case in a US court. Another is that Hallatt does not hide the fact he is an unauthorized retailer in fact, he is open about the companys frustrations with his operation and seems to revel in its relentless efforts to bring him down.
The Pirate Joes website declares that it is unaffiliated, unauthorized, unafraid and has a section titled lawsuits n such. Keen observers will also notice that dropping one letter turns the stores name to Irate Joes.
Arguably, Hallatt is one of Trader Joes best customers he estimates he has spent $20,000 to $25,000 at stores each month in the past five years at least $1.3m. But Trader Joes will not have to worry about such detail if its adversary cannot raise the resources to fund a trial.
If Mike Hallatt cant pay a trademark attorney to do the litigation, Farley said, then theyve won.
Which is why Hallatt turned to CrowdJustice, a British platform recently expanded to the US that helps people raise money for court cases against high-powered adversaries. What were setting out to do in general is to level the playing field in the legal system and democratize access to justice, said CrowdJustice chief executive Julia Salasky.
The Pirate Joes campaign launched on Tuesday and is seeking $50,000 initially, with the ultimate goal of $250,000.
The need to raise funds could be more pressing if Trader Joes efforts to stop Hallatt shopping at its stores are successful. Hallatt said the company has told him it plans to file a motion that would ask the court to stop him purchasing products ahead of trial.
He believes he has been unofficially blacklisted for years by stores across the Pacific north-west, which is why he hires fleets of local shoppers to buy goods requested by his customers. He then packs the goods up and takes them across the border.
When the legal battle began, Hallatt said, he wished Trader Joes would just open in Canada already, put me out of my misery. But motivation to continue the fight comes from his customers and the companys focus on seeing him shut down.
If Im in my store and Im unloading my van and people say, This is the only thing my kids will eat, thats encouraging, he said.
All I have got to do is get to November.
Read more: https://www.theguardian.com/world/2017/may/30/pirate-trader-joes-court-battle-trademark-rights-canada