Almost a third of Floridas population under evacuation orders on Saturday as authorities try to get people out of storms path and into safe place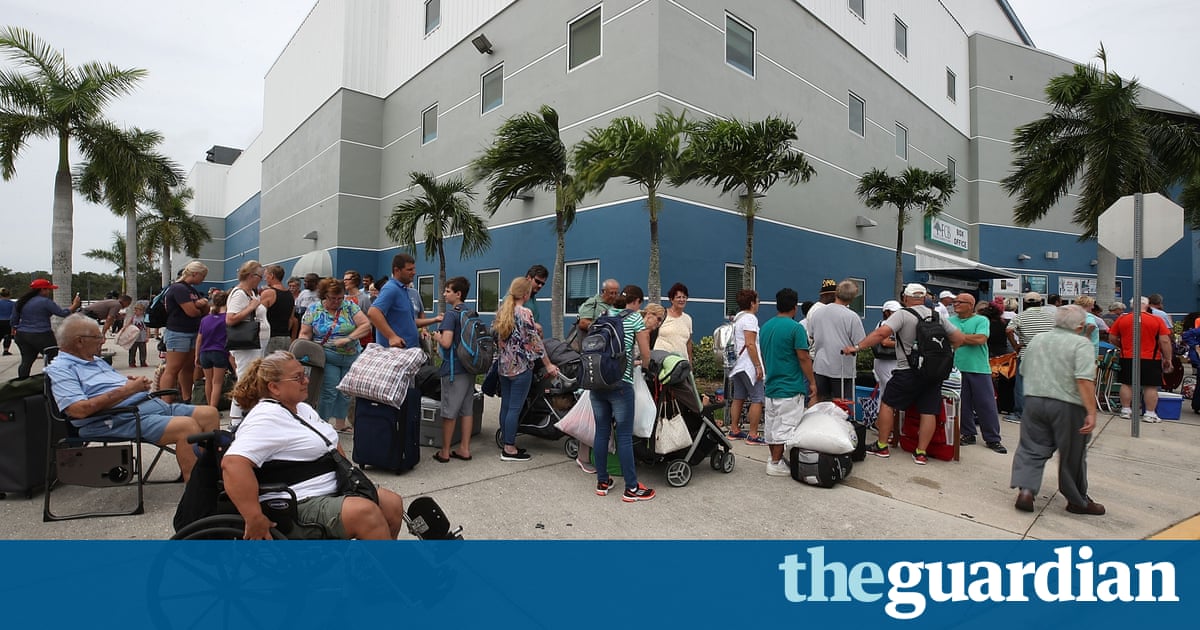 Almost a third of the entire population of Florida was under evacuation orders on Saturday afternoon, as Hurricane Irma approached and authorities made a final push to drive more than 6 million people out of danger zones, off the streets and into shelters or on to high ground.

With attention increasingly on the west coast, where Irma was expected to grind its way north on Sunday, bringing havoc in its wake, exceptional measures were in place throughout the south of the state. Though it looked like Miami would avoid the worst of Irmas punch, the 70-mile wide expanse of hurricane winds meant that storm surge and powerful gusts were still likely to cause extensive damage in the city.
More than 600,000 residents from Miami-Dade, the county that encloses the fourth most populous city in the US, were under evacuation orders. The city was scheduled to impose a curfew from 7pm on Saturday to 8am on Sunday. Broward County further to the north had imposed an even more stringent curfew, starting at 4pm in an attempt to propel the last stragglers in a largely deserted area behind closed doors as the hurricane hit.
Tropical storm-force winds of more than 50mph were expected to pummel the region from about 5pm on Saturday.
Forty-two shelters were open across the Miami area, with 11 already full as more than 25,000 people hunkered down, temporary refugees from the storm. The shelter program was not without its glitches or critics. Refuges were opened at a faster pace than volunteers could be found to staff them, and in some cases evacuees were turned away amid scenes of confusion.
Opening a shelter is not as easy as people think, the mayor of Miami-Dade, Carlos Giminez, was forced to admit.
Many of the shelters were located in high schools, which had turned their sports halls and assembly spaces over to thousands of evacuees. Media were being prevented from entering one such shelter, at the Ronald Reagan high school in Doral, near Miami airport. But evacuees staying at the school told the Guardian conditions inside, for about 1,200 people, were holding up and spirits were high.
People are keeping happy, said Carola Gil, 55, who had left her home in a nearby neighbourhood, fearful it would be unable to resist Irmas wrath. The school is very clean and theres plenty of space for more to come.
Families seeking shelter were told to bring their own bedding and sufficient food and water for three days. Some people were rather zealous in how they interpreted that advice. Shelter organizers in Broward County put out a subsidiary notice that large objects should not be brought in, following reports that some people had turned up with king-sized mattresses and refrigerators.
In the west, as the storm approached Tampa Bay, people who had already entered shelters said they were trying to adjust to their new reality. George Rogner, a 58-year-old professional DJ, was evacuated to an elementary school where he was bunking in a hallway with lots more people.
Right now, the powers on so were all charging up the phones and they have the hallways air-conditioned here, thats where were at, Rogner told the Guardian. You never what a storm is going to do, people are driving all over the state to get away from it and it just follows them.
As the path of Irma veered, hundreds of thousands of Floridians found themselves caught in the changing patterns of a major weather system. Many people from the Miami area fled north and west under evacuation orders, only to find they had been swept into the westward track of the hurricane.
Francisco Esser, 44, evacuated Miami on Thursday with his wife and two young children, making a four-hour drive to Tampa. Then, as he avidly followed the news on the Weather Channel and from the National Hurricane Center, he realized that one of the most heavily threatened regions was precisely the one he had evacuated into.
So on Saturday, at 5am, the family got back into their car and drove the reverse four-hour journey to their home in Miami. They were unpacking when they spoke to the Guardian.
Thousands like us left their homes and went to Naples and Tampa on the west coast, Esser said. But within 24 hours everything had changed, which is why were back home again.
I feel good about that decision, I think weve done the right thing.
Read more: https://www.theguardian.com/world/2017/sep/09/hurricane-irma-shelters-florida-miami