Musician taken to hospital after two large prop guns held together with scaffolding fell on him an hour into show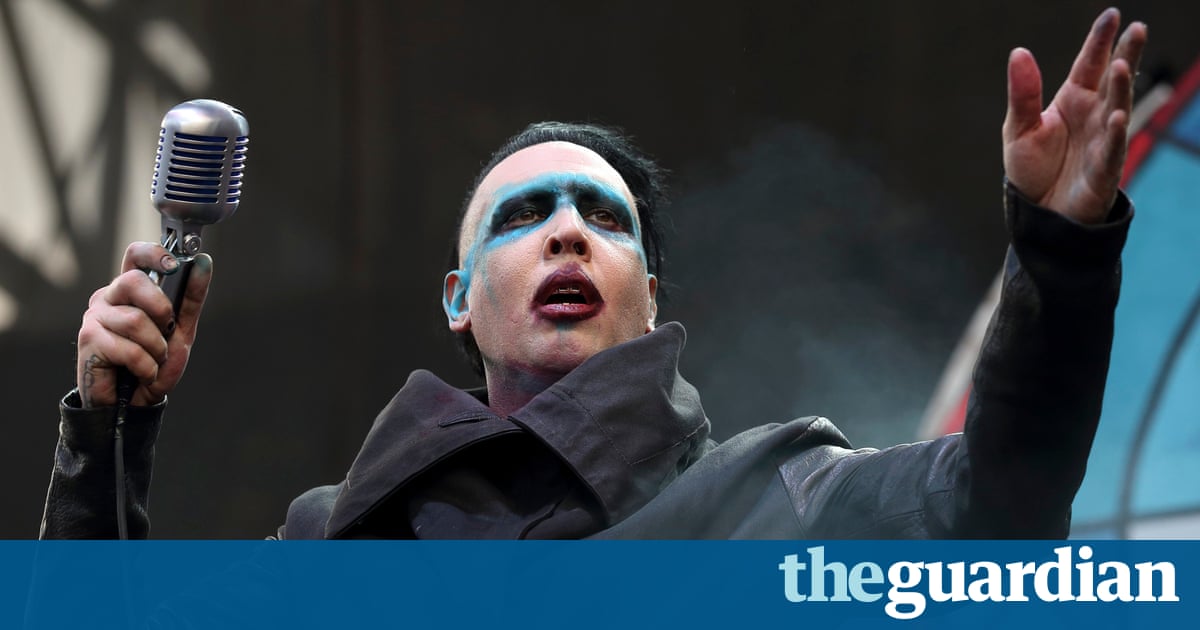 The rock star Marilyn Manson has been hospitalised after a stage prop fell on him while he performed in New York.
The musician, 48, was hurt when two large prop guns held together with metal scaffolding toppled over during his show at the Hammerstein Ballroom on Saturday.
Images from the scene suggest he attempted to climb up the guns before they crashed down on him. Reports from Twitter users say he laid on stage for up to 15 minutes before he was taken to hospital in a stretcher.
Video footage taken by Twitter users appearing to show the incident has appeared online.
The US news publication TMZ reported that the accident occurred while Manson was performing the Eurythmics Sweet Dreams (Are Made of This) about an hour into his show.

He was taken to hospital but it was not yet known how serious his injuries were.
Yousif Al Zaid, 23, who was at the show in New York said: It happened in the middle of his song Sweet Dreams. He performed it and all of a sudden he climbed on to the two guns … At end of the song he bent over holding one of the poles [on the prop] and tipped over. Then it all went silent and you could hear a pin drop. Everyone rushed to him and there were rumours he was dead. Then they brought out a stretcher and he was taken away.

On my Twitter feed today people are saying he has only broken his leg or fractured his ankle, but theres no official news yet. Its crazy actually when he fell they closed the curtain on the stage and dimmed the lights. They then escorted everyone out.

He added: It was really surreal to watch him play live. It was great but it was sad for it to end like that, was not really part of the plan.
One fan, who was at the concert, tweeted:
Pictures from the concert taken before the accident showed the large prop guns positioned at the centre of the rear of the stage.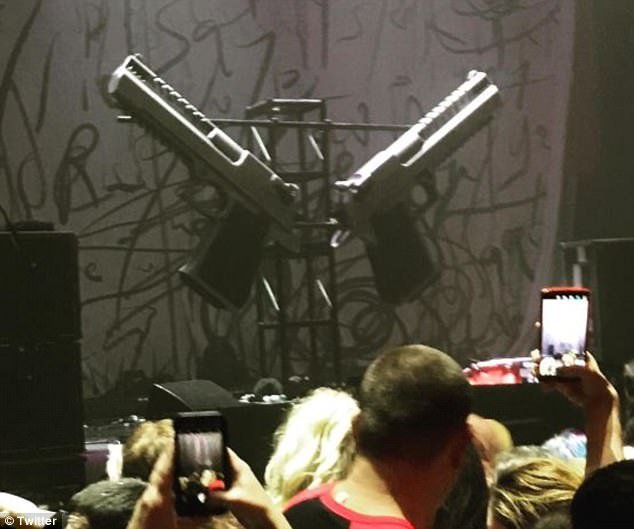 A representative told Rolling Stone magazine: Manson suffered an injury towards the end of his incredible NYC show. He is being treated at a local hospital.

The artist, whose real name is Brian Warner, is famous for 1990s hits including Antichrist Superstar and Mechanical Animals. His stage name is derived from actor Marilyn Monroe and cult leader Charles Manson.
The artist was three dates into his The Heaven Upside Down Tour, which was due to end in a series of performances in the UK in December. Previous stage stunts have included ripping pages out of a Bible. He reportedly broke his ankle during a recent show in Philadelphia but kept performing.

In a recent interview with the Guardian, Manson said the Columbine shooting ruined his career. The teenage gunmen, who killed 13 people and injured 24 before killing themselves, were reported to be fans of the star.

Manson said: Honestly, the Columbine era destroyed my entire career at the time.
Read more: https://www.theguardian.com/music/2017/oct/01/marilyn-manson-struck-by-falling-stage-scenery-during-new-york-concert